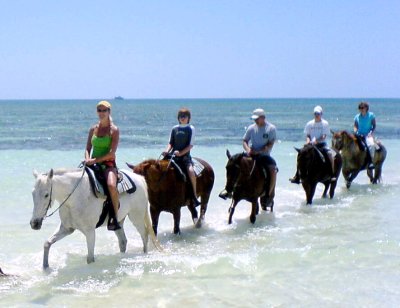 Pinetree Stables
Let Pinetree Stables in Freeport take you on an exciting and informative two-hour guided tour on horseback. A friendly tour guide and experienced trail horses will escort you on the ultimate eco tour of Grand Bahama Island – on horseback! The trail will wind its way through the endangered Pine Forest, and then past the Castle and through the Hardwood Coppice, along the Swash, over the Dunes, west on the beach, and into the sea. Then finally return to the stables along the trail. No experience necessary! There are trail rides every day at 9.00 a.m. sharp. Reservations are required so please plan accordingly. There is a courtesy shuttle from Freeport hotels and the Harbor which is included in the price of your horseback ride tour.
The stables are just 10 minutes by taxi from major hotels and 20 minutes by taxi from the Cruise Ship Terminal.
The minimum rider age is 11 years old – The weight limit is 200 lbs.
For your comfort, we recommend wearing long pants and tennis shoes. Also recommended are helmets.
Cash, travelers' cheques, Visa and MasterCard accepted.
Pinetree Stables
North Beachway Drive, Freeport, Bahamas
Phone Number: 242-602-2122
Reservations are required