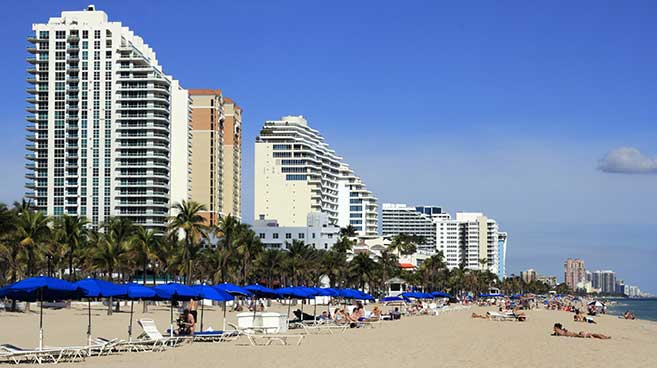 Fort Lauderdale, Florida
More than 14.3 million people visited Fort Lauderdale, Florida  in 2014, spending $11.4 billion in the local economy. There are six beaches – Fort Lauderdale, Hollywood, Deerfield Beach, Pompano Beach, Dania Beach and Lauderdale-by-the-Sea, respectively.
Quick Facts:
There are more than 300 miles of Intracoastal Waterway and navigable inland canals making Fort Lauderdale the "Venice of America" and a yachting capital.
9 cruise lines sailed 40 cruise ships out of Port Everglades in 2014, carrying some 4 million people.
Fort Lauderdale-Hollywood International Airport serves 24.6 million passengers on 34 airlines each year.
Fort Lauderdale is a city on Florida's southeastern coast. It is a popular tourist destination, principally because of i its beaches and many canals for boating. The Fort Lauderdale Strip is a popular promenade which runs along oceanside highway A1A and is just two miles north of Port Everglades. It is known for the wild college spring break parties in the 60″s, 70's and 80's. Today, however, visitors including families and international travelers, all arrive in Fort Lauderdale to visit the arts and culture scene here. They also come to check out the Strip – full of upscale restaurants, bars and high-end, luxury hotels.
From shopping on Las Olas Boulevard, to gondola rides on the canals, to a historic riverfront, Fort Lauderdale is the ideal place to visit if you are looking for warm weather, outdoor activities and culture. The Stranahan House, a preserved 1900s home furnished with antiques of the era, is a popular visiting spot for tourists and as well as locals. The Riverwalk is great for strolling through a landscaped park, to the Arts and Entertainment District.
Blue Wave sands cover a three-tiered living coral reef system just off the coast of Fort Lauderdale, Florida. Here, more than 76 artificial reefs have made this one of Florida's most popular dive destinations. Snorkelers can swim a few hundred feet off shore to reefs that begin at less 15 feet in depth in Lauderdale-By-The-Sea and Dania Beach.
Cruises and Casinos
Cruise Port Everglades, which is in Fort Lauderdale, is among the world's busiest cruise terminals. Thousands of tourists visit Fort Lauderdale every year to enjoy a Cruise out of Port Everglades in Fort Lauderdale.
Additionally, Florida is the third most active gambling state in the nation, and Fort Lauderdale is the epicenter of this activity. Pari-mutuel betting venues and casinos join the excitement of traditional table games. Slot machines, horse, dog and harness racing, jai-alai – can all be found in Fort Lauderdale.
Outdoor fun and games notwithstanding, Fort Lauderdale, Florida offers an outstanding quality of life. With it's semi-tropical climate, natural beauty and cultural, entertainment and educational amenities, it is hard to find a better place to live in South Florida. With year-round sunshine and ocean breezes, Fort Lauderdale offers premier opportunities for recreation and relaxation.
This is also  a good place for the intellectually inclined. Downtown Fort Lauderdale is home to Broward Community College, Florida Atlantic University, Florida International University. Also, Broward County Main Library, and federal, county and school district offices are located here.
Welcome to Fort Lauderdale!